Dynamic, Visually Striking, and Impactful - Ghaziabad
Wednesday, 18 October 2023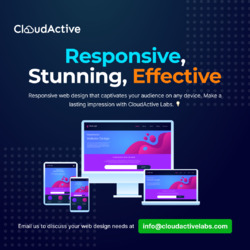 Item details
City:
Ghaziabad, Uttar Pradesh
Contacts

CloudActive Labs

+91 9871339998
Item description
Craft responsive web designs that enthrall your audience on any device. Leave a lasting impression with CloudActive Labs.At CloudActive Labs, we're dedicated to crafting responsive, stunning, and effective web designs that leave a lasting impression. Here's what we offer:
✅ Expert Responsive Web Design Services
- Designs That Captivate Your Audience
- Seamlessly Accessible on Any Device
- Let's Create a Lasting Digital Impression
- Your Website Is Your Gateway to Success! -

www.cloudactivelabs.com

Ready to captivate your audience with responsive web design? We're here to help you make a memorable digital impression!