Soni Electric Vehicle, Battery Operated Electric Rickshaw, Auto Vehicle Tempo, E - Ghaziabad
Saturday, 11 October 2014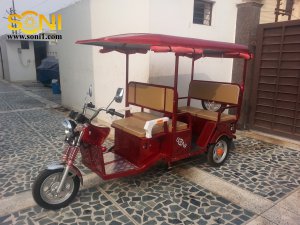 Item details
City:
Ghaziabad, Uttar Pradesh
Contacts

anuj sharma

9891058588
Item description
Keeping in mind the genetics of Indian economy and global oil crisis, SONI Electric Auto is proud to introduce a revolutionary product in the country by launching Eco friendly battery operated rickshaw`s which run on batteries and are popularly termed as E-RICKSHAW.
SONI ELECTRIC VEHICLE PVT. LTD is confident of replacing the current mode of transport in the cities, towns and villages of the country with this new offering. It is a safe, convenient and non polluting sound and air mode of transport that prevents the drudgery a normal rickshaw. Auto Rickshaw puller goes through and helps him to earn better and in a dignified way. Cities core area pollution less transport, system freedom services and self employment.