Speed Up Product Development With CloudActive Labs - Ghaziabad
Wednesday, 18 October 2023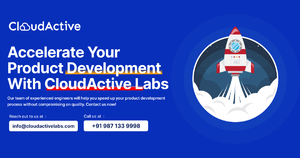 Item details
City:
Ghaziabad, Uttar Pradesh
Contacts

CloudActive Labs

+91 9871339998
Item description
Our seasoned engineers are here to accelerate your product development without compromising quality. Contact us today and let's turbocharge your progress! At CloudActive Labs, we're dedicated to accelerating your product development process without compromising on quality. Here's what we offer:
✅ Speed Up Product Development
-️ Experienced Engineering Team
- Quality Without Compromise
- Your Success, Our Expertise
- Contact Us Now to Learn More! -

www.cloudactivelabs.com

Ready to accelerate your product development and bring your ideas to market faster? Contact us now to discover how we can help you with CloudActive Labs!