Forging Digital Triumphs With CloudActive Labs - Ghaziabad
Saturday, 21 October 2023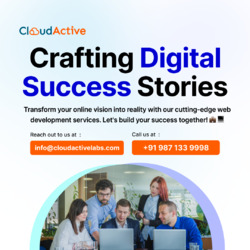 Item details
City:
Ghaziabad, Uttar Pradesh
Contacts

CloudActive Labs

+91 9871339998
Item description
Turn your online dreams into reality with our state-of-the-art web development services. Let's construct your path to success, hand in hand!

www.cloudactivelabs.com

At CloudActive Labs, we're here to turn your online vision into a digital success story. Here's what we offer:

Expert Web Development Services
Cutting-Edge Solutions for Your Unique Vision
Building Your Success in the Digital World
Let's Craft Your Success Story Together
Your Vision Is Our Blueprint for Excellence!

Ready to build your digital success story with cutting-edge web development? We're here to transform your online dreams into reality!

Ready to discuss your online vision and build your success story? Contact us for a consultation at +91 9871339998, and let's craft your digital success together!